Berita Terbaru
Berita terbaru dari InstaValas dan InstaForex
Berhubung sejak 1 Juni 2012 Instatrader dari Xogee untuk android tidak bisa digunakan lagi. Oleh karena itu sebagai alternatif sekarang trading menggunakan Metatrader4 Android. Silakan download dari https://play.google.com/store/apps/details?id=net.metaquotes.metatrader
Menurut saya, metatrader4 for android ini lebih baik dari Instatrader Xogee, karena lebih enteng, login lebih cepat, dan support multi broker. Akan tetapi jika ingin tampilan chart yang berwarna-warni untuk sementara mt4 android belum mendukungnya, karena sementara ini hanya bisa menggunakan setting warna default saja.
Berikut ini adalah langkah-langkah login ke metatrader android:
1. Klik Icon Metatrader4 Android
2. Pilih Login with existing account
3. Search broker Instaforex di text box, kemudian pilih server trading. Salah memilih server trading mengakibatkan Anda tidak bisa login.
4. Masukkan nomor account trading dan password anda.
5. Setelah login berhasil, bisa mengakses account dengan sempurna menggunakan metatrader4 android. Anda bisa melihat running price, chart, open posisi, close posisi, modifikasi posisi, dan lain-lain sama seperti menggunakan metatrader PC. Kekurangan metatrader android ini adalah tidak bisa menggunakan custom indikator dan EA.
Our life is full of both small and big victories as well as defeats. Most likely that everyone knows that incomparable feeling when one proves to be better, stronger, smarter, faster and more sharp-witted than the rivals. Of course, sometimes joy of victory gives way to the bitterness of defend, which is especially unpleasant when it comes to failure. "There is no avoiding it", – Many can say. "Forget about losses and defeats!", – that is the answer of the best broker in Asia! Participating in InstaForex special campaigns and contests InstaForex, you gain invaluable experience, loads of positive emotions and a unique opportunity to increase rapidly your capital without any risk! Well, time to choose:
"One Million Option"
Are you in favor of non-standard but effective methods of achieving the result? Hurry up to register for the splendid weekly contest among demo accounts the next stage of which starts on the 4th of June and you can earn up to 500 US dollars
"FX-1 Rally"
Are you waiting for the airtime of the latest Formula 1 Championship? Do not waste your time – together with InstaForex you can become a real racer in this unique tournament with weekly 1500 US dollars prize money. And if you demonstrate an impressive result – you can press the best Forex racer of the last week who is Alexander Borisov from Russia!
"InstaForex Sniper"
Do you prefer accuracy to speed? Are you an owner of sufficient self-control and able to immediately make a difficult decision in good time? Then this contest is for you! Take part in its next stage which will take place from 4th to 9th of June and prove that your strategy is more efficient than E Saptyanto Edi Wijogo's (Indonesia) who took the best shot last week!
"Lucky Trader"
There is an opinion that the main advantage of this contest is not only in the annual prize pool of 5.000 US dollars, but in its magic: during a long period of time after the triumph in this two-week competition the luck is still pursuing its winner. Whether it is so better ask Odianosen Okosun (Nigeria), the last week lucky winner!
Choose the best of the best with InstaForex!
Learn more about the competitions
Finalists' comments and photographs
Don't you know how to spend your free from Forex trading time? InstaForex has taken care of it: take part in one of the contests arranged by the international Forex broker! Do not miss the chance to increase your trading account with amaiaing bonuses!
InstaForex Sniper
Do you like hunting? How about profitable deals' hunt? InstaForex grants this opportunity. Hurry up to register in the next step of the Forex contest "InstaForex Sniper", and a good catch is guaranteed! And now find out the best hunter Vladan Milikic (Serbia) – the winner of the last step.
One Million Option
Feel the advantages of option trading together with InstaForex ! Enroll in the contest "One Million Option" and get a perfect chance to win $100 to $500. The happiest owner of the last week prize is Pavel Kalashnikov (Russia)! Congratulations!
FX-1 Rally
The following step of the contest "FX-1 Rally" starts on May 25. Do not miss it! Take your place on the pedestal of winners like Denis Dumaryonok from Belarus did it together with all other winners of the previous contest stage!
Chancy Deposit
Test your luck in a weekly lottery "Chancy Deposit" by InstaForex. Upload your account with not lass than $3,000 and if she-luck is on your side, then you will be the winner of the chancy deposit in the amount of $1,000. Which Denis Fomin already has!
Take part in the contests arranged by InstaForex! Catch the wave of positive trading!
Find out more about the contests and campaigns
Photos gallery and comments of the finalists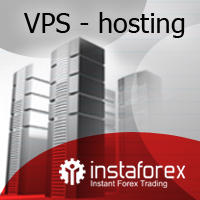 InstaForex Company renders a new VPS hosting service for its customers. Today VPS (Virtual Private Server) is a front-rank option allowing to use a virtual private server for arranging activity in Forex market. VPS hosting grants you access to a full-function virtual dedicated server. Application of VPS hosting gives an opportunity to take all advantages of a single-unit physical server. Your trading stability will no longer depend on your personal computer capacity and Internet access. You will be able to control your trading from any spot of the planet without installing the terminal every time.
You can employ this server of InstaForex Company on the most beneficial terms in Forex market. The company clients are allowed to choose one of three types of VPS server configurations with Windows system and with reinstalled InstaForex terminal. Depending on a trade balance, you can get access to VPS hosting for free or paying from 3 US dollars.
You can draw up an order for one of chosen VPS hostings in the Client Cabinet. Besides, your Client Cabinet will show statistics of a server active period, amount of funds withdrawn from the balance and your order status.
With this option of VPS hosting by InstaForex your trade on Forex will reach a brand new technological level.
Trade and gain with InstaForex!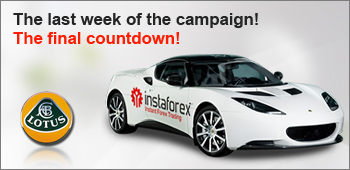 May 25, 2012, is coming! Just in a week we will learn a number of the trading account that will make its owner fly for the sheer joy of winning the main prize of InstaForex Fast Ride from the Best Broker campaign – a Lotus Evora. The campaign has been lasting for two years already, and finally, in some seven days, we will find out its outcome!
In case you have not signed up for The Fast Ride from the Best Broker yet, do not miss your last opportunity! You still have a week left until the end of the campaign. If you have been dreaming of a posh sports car produced by famous British automobile manufacturer Lotus Cars, take your chance to have it!
The campaign winner shall be determined on a random basis – by Lotus Number which includes five last digits of major currencies quotes. Even your odds right now: replenish your account with not less than 1000 USD and register for the campaign. You can also considerably increase your odds of winning by registering several accounts. One of your accounts may well bring you victory and therefore a Lotus Evora.
Hurry up, a week is still remaining to make your dream come true! On the night of 25th/26th May, the luckiest InstaForex customer will be at last figured out, the one that is destined to drive a gorgeous new sports car – a Lotus Evora!
Participate and win in campaigns and contests organized by InstaForex international broker!
The spirit of rivalry opens certain constructive energy in us, which can become the main moving force in achieving success. Thus InstaForex offers to test clients' skills and enjoy the exciting contests to a full extent enrolling in spring!
"InstaForex Sniper"
When have you been in the shooting gallery? You couldn't have forgotten the uncomparable pleasure one gets when the target is hit! Try yourself in the role of a Forex sniper, taking part in this unique contest, which is held since May 14 until 19. Do not leave any chance for Elena Matveyeva to stay among the leaders (Belarus), who actually appeared the most accurate sniper in the last step of the contest!
"One Million Option"
Do you like no extra limitations? Do you love to control thing rather than on the contrary? Then hurry up to get enrolled in this wonderful weekly contest for demo accounts, the next step of which will start on May 14. Gain up to $500 like it was done by Alexandr Lartsev (Russia), who was the winner of the last week step!
"FX-1 Rally"
Drive, speed and adrenaline! If these three words evoke positive emotions with you, then this contest is destined for you! Become the fastest Forex reacer of the next race starting on May 18, taking of the pedestal Veronika Katonovna from Slovakia, who was the best racer of the last step of this weekly contest!
"Real Scalping"
Have your endurance and patience never lead you to success? Use these traits with the maximal advantage for your trading account, just take part in the monthly contest, the following step of which will be held in June 4 – 30 and write your name in line with the best InstaForex scalpers, such as Segey Bobrov (Russia), the prizetaker of the last step of the contest.
Feel the energy of success with the best broker in Asia!
Find out more about the contests and campaigns
Photo and comments of the winners

Dear customers,
We would like to inform you that from June 1, 2012, on all the trading terminals older than version 416 shall stop functioning, for the developer does not support old versions of MetaTrader 4 any longer.
In order to check your software build, select the About option in the Help section of your trading terminal.
We kindly ask you to pay due attention to this notification. We suggest that you either update your trading terminals in advance or download new distributions from our website.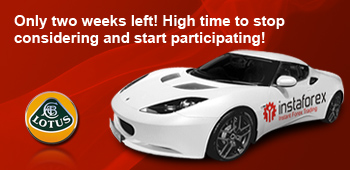 The 25th of May, 2012 is the day when we will find out a trading account, which will bring victory to its holder, the account that will appear the winner of the campaign "Fast Ride with the Best Broker" thus giving its owner the keys to a perfect auto Lotus Evora.
If you have not registered your account in the campaign, do not be upset, you still have the last chance to drive a posh car produced by the famous British manufacturer Lotus Cars. Just load your trading account with $1,000 or more and register it in the campaign "Fast Ride with the Best Broker". The winner is determined by a transparent procedure, and it may happen that your trading account will enlarge your car fleet with a new Lotus Evora. Moreover, if you want to increase your chance to win, register more than one trading account in the campaign.
The winner will be determined by Lotus number on the 25th of May, 2012 at 23:59.
Don't miss the opportunity to take part in the raffle arranged by the best broker. You can be the one to own an amazing sports car Lotus Evora.
Hurry up to enrol in the contests and campaigns with the international broker InstaForex!
Kami mohon maaf atas keterlambatan pengiriman rebate untuk 8 Mei 2012. Kami sudah kontak Instaforex, dan dikatakan mungkin ada sedikit keterlambatan pengiriman rebate. Mohon para client Instavalas untuk bersabar.
Screenshot chat dengan Instaforex:

Update: Rebate sudah terkirim
Terima kasih atas perhatiannya.

It is time to sum up the results of the finished contest periods held by the broker #1 in Asia — InstaForex. This is probably one of the most intriguing and pleasant moments in trader's profession — to find own name among the prize takers! Today the most successful ones will learn that their account will soon be deposited with the prize money, and the long-awaited devices will be sent to their new owners.
"InstaForex Sniper"
Traditionally this contest requires accuracy, speed and professionalism! This time Mahasen Deepika from Shri Lanka was the best among all the competitors. If you did not manage to show the best results in the last step of the contest, do not miss your chance to change the list of the winners! So register for the following contest period which is due on May 7, 2012 (GMT+3) until May 12, 2012 (GMT+3). The enrollement for the next step closes 1 hour befrore the beginning of the contest.
"Lucky Trader"
Aside from professionalism luck is likely to help you on Forex! If you feel being a profi of trading (or at least are close to this title) and you are lucky, then the contest "Lucky Trader" is for you! Last week Svetlana Galkina proved this and appeared to be the first among all. And we can only recommend you to leave aside the worries and try how lucky you are!
"One Million Option"
The majority of traders who have just appeared on Forex hope to gain millions, being inspired by the examples of successful traders from all over the world. Of course, this is an amazing wish, so InstaForex gives you a chance to train for it! In the contest step which finished a few days ago, the Gold was taken by Evgeny Yun from Uzbekistan. Still very soon you'll get another opportunity to receive a nice prize. You are free to enroll for the next step of the contest which will be carried out since May 7, 2012 (GMT+3) until May 12, 2012 (GMT+3). Sell you one million option and get closer to your dream!
"FX-1 Rally by InstaForex"
The title of the contest speaks for itself, and this means that you only have 24 hours to leave all your rivalries behind! In the last season of the contest the finish line was crossed first by Mayeenuddin Khan (Bangladesh). Our warmest wishes to the winner and we would like to remind you that the following step of the rally will be held from 00:00 on May 4, 2012 (GMT+3) to 23:59 May 4, 2012 (GMT+3). Hurry up!
"Trade Wise, Win Device"
If you are a brand-new trader and have conquered no highs in trading, and the guru of Forex market do not let you get closer to the prizes in other contets, then you do not need to worry! InstaForex offers a perfect opportunity for all novices to receive valuable gifts, such as iPad, which was recently received by Alexey Raspertov, iPhone, which is owned now by Mohd Zulfakar Bin Mohd Napiah, Blackberry, sent to Stanislav Bullakh, and Samsung Galaxy Tab, preented to Jan Kofron. To be a part of the draw in the campaign "Trade Wise, Win Device" it is necessary to fulfil one condition – upload your trading account with InstaForex with the amount of not less than $500, and register at the page of the contest. Remember, everything is in your hands!
Find out more about the contests
Photo and comments of Finalists